Sarushima island is located in Yokosuka city, Kanagawa prefecture (next Tokyo). You can easily access there by Keikyu line, get off Yokosuka chuo station and then take a ferry for 30 minutes. This is the biggest uninhabited island in Tokyo bay.
There are many outdoor activities in the island such as fishing, BBQ, beach through all seasons.
You can also explore inside the island learning history. There is the old tunnel made by old bricks, gun battery of the army in woods.
Why don't you experience amazing adventure in this uninhabited island?
Basic information
[Access]
15 minutes walk from Yokosuka chuo station, Kekyu line to Mikasa-san bridge
30 minutes walk from Yokosuka station to Mikasa-san bridge
*10 minutes from Mikasa-san bridge to Sarushima island by ferry
[Sarushima ferry]
Fare: 1,300JPY for adults, 650JPY for under elementary school students
Entrance fee: 200JPY for adults (over 15 years old), 100JPY for children (from 6 to 14 years old)
[Schedule]
Every day between March and November
Weekend and bank holiday only between December to February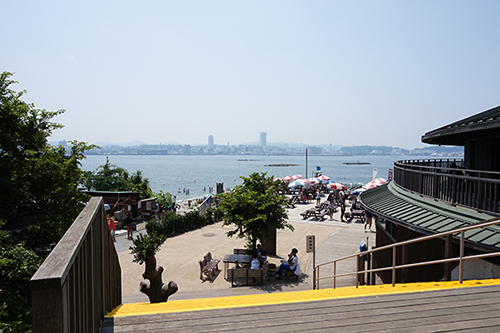 Legend of Sarushima island
Saint Nichiren story (The origin of the name "Sarushima island")
While Saint Nichiren was on a voyage in Tokyo bay, there was thick foggy around and they lost their way. He repeated the Nichiren prayer and the white monkey was suddenly appeared on the boat then indicated him to the island, which was the Sarushima island. Due to this legend, this island was named "Sarushima".
Exploring the World Heritage island
In Sarushima island, there used to be batteries and the island was allotted to protect Tokyo Bay. As you can imagine, it used to be "fortress island". Due to being banned to enter the island apart from the relevant people, it was existed valuable nature and historical heritages. Thanks to this, Sarushima was registered as National Historic Sites in 2015.
If you walk only 5 minutes from the beach, it is now fortress area. You may be surprised the gap and mysterious atmosphere. You will find in there barracks, batteries and long tunnel. The building made by bricks with "French method" will attract your eyes. This is existing only 4 places in Japan. The exotic tunnel made by bricks is as valuable as architect.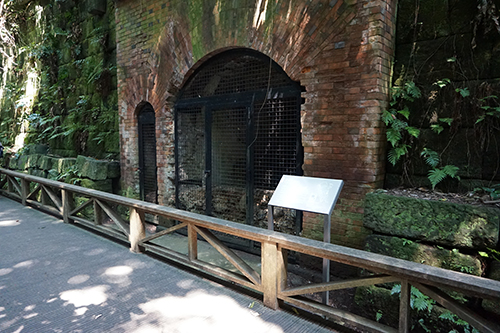 The sightseeing spots
Observation platform: You can reach there after the path of fortress. It used to be used as observatory with 5 batteries.
Fortress of the kiridoshi: There is fortress made by bricks in Meiji period (1868-1912) as it used to be.
The tunnels made by bricks: There are many tunnels made by bricks which are laid 'French style'. They have been kept as it used to be.
Square field: This is the observation field where you can view Yokosuka city and Tokyo Bay. Good place for picnic or walking!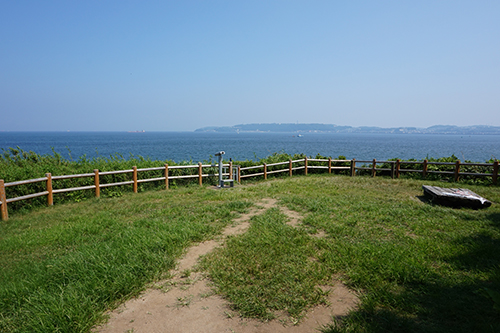 If you are big fan of STUDIO GHIBLI, it is gossiped that this places was used as the model of the castle from 'The Flying Island'. The view reminds us the film so much feeling like the robots would suddenly appear in front of us.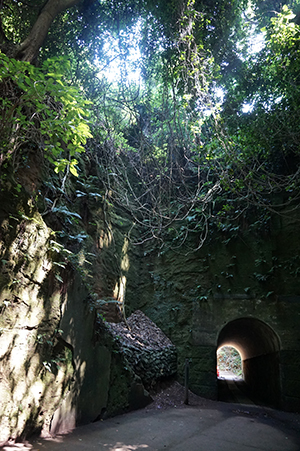 Outdoor experience such as fishing and beach!
The most attractive adventure in this island is outdoor experience. One of them is fishing. As there is hallows around the island, everywhere is the good sport for it, could be the best one in Yokosuka city. During Spring or Autumn, it will be exhilarating feeling to throw fishing rod! When the tide is ebbing at "Oimonohana" and "Yonenone", you can enjoy the beach activities and may find many sea animals.
Swimming at the inhabitant beach!
The beach at Sarushima is open from 11th of July and 31st of August in 2015. It is safe beach as there is rescue team during summer. (Apart from this period, it is banned to swim in this beach.) "Ocean Kitchen" (restaurant), changing-room and shower room are open in Summer as well. If you drink alcohol, you are not allowed to swim in this beach. Enjoy Summer following the rule!
Facilities of the beach
1 beach house (changing-room and shower with charge)
Open from 9am to 4pm
*It is open during the beach season (from middle of July to end of August)
Fee: Adult 600JPY / children 300JPY (under 12 years old)
The rules of Sarushima island
You are not allowed to take your pets. (Except assist dogs and guide dogs)
Fair works or any dangerous playing are banned.
You are unable to stay nights.
The ferry may be cancelled due to bad weather.
Any ingredients are not sold.
The photo shooting of broadcast system
Capture part of the park
Settling or using any audio system
Swimming during closed period
Bringing any portable cooking stove using gas or charcoals, gas or charcoal
Above things are banned in this island. Please do not break the rules and enjoy our beach!