Well-known fast foods in Japan.
Although there are first food restaurants, such as McDonalds, Japanese original first food restaurants, such as Gyu-don (grilled beef on rice bowl) and kaiten-zushi (revolving sushi bar) are also popular.
We introduce you a various first food restaurants in Japan.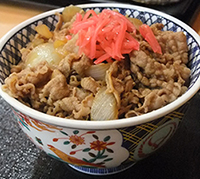 Gyudon is beef and onions cooked with special sauce served on top of a bowl of rice.
There are a number of gyu-don chains, such as "Yoshino-ya", "Suki-ya" and "Matsu-ya". Especially in cities, they are convenient in the early morning breakfast, as there are a large number of them. They are serving not only gyu-don but also curry and many other menu. You will not be fed up visiting the same shop.
Many Gyudon shops adopt meal ticket method.

Yoshinoya
It has a long history with the very first restaurant founded in Tsukiji 1899.
It is Japan's largest Gyudon chain and has overseas locations in Hong Kong, Taiwan, China and the US.
A standard size Gyudon serving costs 380yen.

Sukiya
There are a variety of floavors for Gyudon available including eggplant and tomato, kimuchi (Korean pickle), and cheese.
Beside Gyudon, there are other Dnburi (ball) dish such as broiled eel and Japanese curry.
A standard size Gyudon serving costs 350yen.

Matsuya
Their Gyudon bowl is called "Gyumeshi" always serving with a soy soup.
A standard size Gyudon serving costs 290yen.

Nakau
Beside Gyudon bowl, Udon (made of wheat flour) and Oyako-don (a bowl of rice topped with boiled chicken and eggs) are also popular.
A standard size Gyudon serving costs 350yen.
A standard size Oyako-don servng costs 490yen.

Kaiten Zushi is conveyor belt sushi.
You pick your selection from a steady stream of fresh sushi moving along the conveyor belt.
If customers cannot find their desired sushi, they can make special orders.
The final bill is based on the number and type of plates of the consumed sushi.

Kappa Sushi
Every item 100yen (tax excluded).
Some shops introduce touch panel ordering system and express (Shinkansen) lane beside regular speed lane.

Genki Sushi
Four type of price range (108, 183, 237 and 345yen).
Take away is also popular.

Akindo Sushiro
Every item 100yen (tax excluded).
It is dedicated to high quality ingredients and domestic rice.

Kura Sushi
Every item 100yen(tax excluded).
Introducing addictive free. Pioneer of introducing touch panel ordering system.
Speaking of Japanese noodle, udon and soba are popular.
We introduce you restaurants that you can enjoy casually.
Why don't you call in for snack, when you are little hungry?
There are also some other menu, such as rice bowls, and therefore, it is also recommended for proper meals.

MARUGAME SEIMEN
This is the biggest self-service Sanuki Udon restaurant which has more than 750 brunches in Japan now. They offer the most popular Udon "Kamaage-Udon" (boiled hot Udon noodles with raw egg and soy sauce) and also other various Udon with side menu such as Onigiri, Tempura etc.

Hanamaru Udon
Self service Sanuki udon (noodle made of wheat flour) restaurant.
It is the pioneer company introducing casual Sanuki udon outside of Kagawa where Sanuki udon is originated.
Standard size udon serving costs 400yen.

Fuji Soba
Pioneer among 24 hr standing-up-eating soba / udon shops.
Using fresh noodle and making soup stock at each shop.

Curry is off course not a Japanese food. It is reformed in the United Kingdom and uniquely developed in Japan.
It is one of the most popular meals in Japan and sometimes called "soul food of Japan".
It is also served in school lunch and receiving favorable response from young students.

Curry House CoCo Ichibanya
There are more than 30 types of curries available beside seasonal menu. You can choose curry spice and amount in addition to a variety of toppings.
There are a various range of menu but also limited seasonal menu is popular. They operate stores not only in Japan but also the USA, Taiwan, China, Korea and Thailand. It is called "CoCo Ichi" for short.

Curry Shop C & C
They serve "C&C Original", an authentic curry with rice which richly blended 28 kinds of spices. You can choose from various toppings and flavor, such as pork, beef, vegetable, either mild, medium spicy or spicy. For who are not fancy with curry, the menu except curry, such as hashed beef with rice, is also available.

Although there are also hamburger restaurants originated from overseas, such as McDonalds, I introduce you Japanese original hamburger restaurants, such as Mos Burger. Why don't you try Japanese style hamburger?

Mos Burger
Mos Burger provides Japanese style burger. Teriyaki Burger comes with soy sauce or miso(bean paste) based sauce and a plenty of lettuce and mayonnaise.
Teriyaki Burger serving costs 360yen(tax excluded). Kinpira (fried burdock root and carrot) Rice Burger serving costs 340yen(tax excluded).

Freshness Burger
Fresh made burger right after receipt of order. Relaxed atmosphere with early American style. There is a variety of seasonings including seasoning salt, mustard, ketchup, jalapeno sauce etc. on seasoning counter you can use freely.
Freshness burger serving costs 350yen(tax excluded).

First Kitchen
The differentiated menu from other hamburger restaurant have been receiving a favorable reputation, such as our most popular Bacon Egg Burger, french fries that you can choose a flavor, pasta, soup and desserts.
Bacon egg burger serving costs 320yen.