Takayama / Gifu Prefecture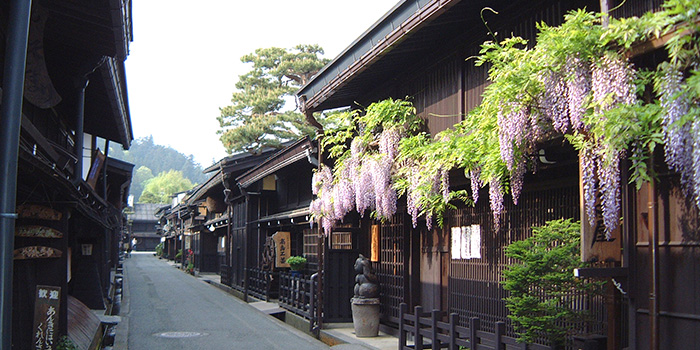 Located in Gifu prefecture, Hida area. The city is famous for the old traditional town and streets and well-known as "Little Kyoto" due to the similarity of the atmosphere. Although it has distance from the big cities (4.5 hours from Tokyo by highway bus, 2 hours from Nagoya, 5.5 hours from Osaka), it is definitely one of the sightseeing places you cannot miss and it is very popular among the tourists.
Moreover, 1 hour away by a car, there is the village Shirakawa village which is registered world heritage. Many tourists are instantly attracted by the traditional houses with thatched roofs were built around 300 years ago and they feel as if one had been transported through time to the age. Many tourist are enjoying the most popular route Tokyo → Hakone → Takayama → Kanazawa → Tokyo having Japanese culture and tradition such as hot springs (Onsen), Mt. Fuji, temples, entertainment etc.


Hida no Sato / Hida folk village
The museum "Hida-no-sato" is introducing the old days in this area. They have re-built the traditional houses "Gasho-tsukuri" (a house with a steep rafter roof) and reappear their life in this museum in order to hand down to posterity.


Takayama Jinya
Approx. 10 minutes on foot from Takayama Station
"Jinya" is the place where the prefectural and district governors used it as an office during the Edo period. The Takayama Jinya is the museum now.


HIKARU MUSEUM
Approx. 5 minutes by taxi from Takayama Station
It is the biggest museum in Chibu area and introducing art, drawing.


Takayama Showa Museum
Approx. 15 minutes on foot from Takayama Station
You can enjoy the antiques of Showa period and also the drawing by the artist Kiyoshi Yamashita who is well-known as Japanese Van Gogh.


Shinhotaka Ropeway
The observation platform is located in the height 2156m from Shinhotaka-onsen station. You can reach there via 1st Ropeway to Nishihotaka station, then take the two stories gondola lift which is the first one in Japan.

From Nagoya

By train [Approx. 180 minutes / 5,510yen]
Nagoya Station → (JR Central Ltd. Exp. "Hida" : about 150 minutes / 3,350yen + Express ticket 2,160yen) → Takayama Station
[To Nagoya]
From Tokyo : Tokyo Station → (JR Tokaido Shinkansen "Nozomi" : about 100 minutes / 10,360yen) → Nagoya Station
From Osaka : Shin-Osaka Station → (JR Tokaido Shinkansen "Nozomi" : about 50 minutes / 5,830yen) → Nagoya Station
From Tokyo

By Expressway Bus [Approx. 5hours 30min / 6,690yen]
Shinjuku Expressway Bus Terminal → (Expressway Bus : Approx. 5hours 30min / 6,690yen) → Takayama Nohi Bus Center

Shirakawago village was registered as The World Heritage in 1995 and more than 1.4 million tourists visit through a year. It is now very popular sightseeing place in Japan. There are many "Gasho-tsukuri" (a house with a steep rafter roof) which are open as museum, restaurants, Ryokan (Japanese Inn). Please enjoy Japanese old days and nature walking around the village.


Shirakawa-go (Historic Villages of Shirakawa-go and Gokayama)

Shirakawago can be reached from Takayama about 50 minutes by bus, 2 hours and half from Nagoya or 1 hour and 15 minutes from Kanazawa city.
Shirakawa village was officially registered The World Heritage in 1995 and very popular sightseeing spot 1.4 million tourists are visiting. In this village, there are still many traditional houses with a steep rafter roof where they are now open as accommodation, restaurants or sightseeing. You can absolutely enjoy how the Japanese traditional community used to be in there.
The traditional house "Gasho-tsukuri" has got a steep rafter roof. As the shape of that roofs look like people are pressing their hands together in prayer (we say this action "Gasho" in Japanese), it has started to be called "Gasho-tsukuri". (tsukuri means "make")
This Gasho-tsukuri style architect are used to be used a lot for Japanese traditional houses. In this area, it snows heavily during winter and this style of roof (used steep rafter and has steep grade) works really well in order to reduce the burden from snow.
They were built around the time from later Edo period to Meiji period. (1853-1912)
From Takayama to Shirakawa-go

Takayama Nohi bus center → (Nouhi Expressway bus: about 50 minutes / 2,470yen) → Shirakawa-go
Tours (By JAPANICAN)
[(ENGLISH GUIDE) Shirakawa-go and Gokayama Bus Tour; Planned and Operated by Nohi Bus]
8:30am Takayama Nohi Bus Center ⇒ Explore Gokayama Ainokura Steep-roofed Village individually → Local lunch at Shirakawago Gassho Shuraku Shiroyama cbservation tower ⇒ Explore Shirakawago Gassho Shuraku and the Open-air Museum of Gassho Zukuri Minka-en individually ⇒ 3:10pm Takayama Nohi Bus Center


Tour detail and booking by JAPANiCAN