Kusatsu Onsen (Hot sparing) / Gunma Prefecture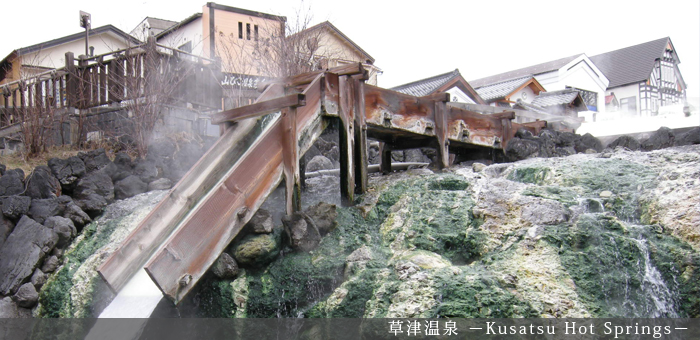 Kusatsu is a wonderful hot-spring resort area known for it's high quality and abundant supply of fresh water. The Yubatake facility is the symbol of Kusatsu, and it courses with up to 4,000 liters of hot water per minute. After the sun goes down, Yubatake's illuminations conjure up a stunning and uniquely wonderful atmosphere.
The Yumomi experience is also available for guests. Yumomi is the method of cooling the hot-spring water that flows directly from the source. By stirring water with 1.8 meters long paddles, the hot-spring water cools to a suitable bathing temperature.
Visitors to Sai no Kawara can enjoy some distinctive scenery while soaking in the bubbling hot-spring water. Stone monuments line the walking trail, and an outdoor bath (the largest in Kusatsu) is located at the end of this path.
Mt. Shirane is featured as one of the "100 famous mountains of Japan" and is popular for it's attractive hiking trails.
For a long time, Kusatsu has also been an appealing destination for skiers. With it's views from an elevation of over 900 meters, it's great for beginners and experts alike. There are also indoor facilities available including Kusatsu Onsen Museum, the Baelz Memorial Hall, Kusatsu Tropical Greenhouse Dome, the Environment Experience Amusement Museum and the Kataoka Tsurutaro Museum.


Kusatsu Onsen


Kusatsu Accommodation

From Ueno Staion (Tokyo area)

By train [Approx. 3.5 hours / 5,440yen]
Ueno Staion → (JR Ltd. Exp. "Kusatsu" : about 2.5 hours / 3,020yen + Express ticket 1,730yen) → Naganohara-Kusatsuguchi Station → (Bus : about 30minutes / 690yen) → Kusatsu Onsen
From Tokyo Staion

By Shinkansen [Approx. 3 hours / 7,590yen]
Tokyo Staion → (JR Shinkansen "Hakutaka" : about 70 minutes / 5,390yen) → Karuizawa Station → (Bus : about 90 minutes / 2,200yen) → Kusatsu Onsen
From Shinjuku

By Expressway bus [Approx. 4 hours / 3,300yen]
Shinjuku Station Shin-Minami (New South) exit bus terminal → (JR Expressway bus : about 4 hours / 3,300yen) → Kusatsu Onsen