Beppu Onsen (Hot sparing) / Oita Prefecture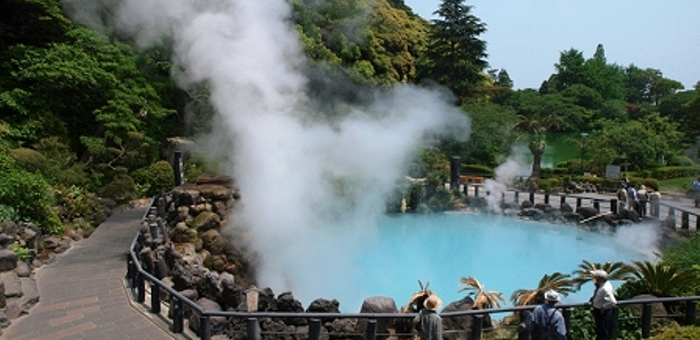 Beppu Hot sparing resort is located in central Beppu city, Oita prefecture and boasts having the majority of hot spring source and the yield of hot spring water in Japan. It is also known as "Beppu Hattou". They have around one-tenth of hot spring source in Japan and proud of its congeries in the world. It is really attractive hot spring resort everyone can enjoy.
It has been popular as tojba (therapeutic hot spring) since ancient times thanks to Tsurumi mountain volcano near Beppu area. Beppu hot spring resort is definitely one of the representative hot springs in Japan where many tourists visit. Relax yourself as much as you can, enjoying extraordinary different types of quality hot water in each source.


Beppu Navi


Hyotan Hot Spring
It was established in 1922 and very nostalgic hot spring.
There are various kinds of bathes in here, such as sand bath, water fall bath, open-air bath, steam bath, walking bath, rock bath, cypress bath and 4 family bathes as well. You can enjoy "Spa traveling" staying here.
You can also relax here at restaurants or rest rooms.
[Hours] : 9:00a.m. - 1:00a.m.
[Access] : Approx. 15 minutes by taxi from JR Beppu Station

From Oita Airport

By Airport limousine [Approx. 60 minutes / 1,450yen]
Oita Airport → (Airport limousine "Airliner" : about 60 minutes / 1,450yen) → Beppu city (Beppu Kitahama)
From Fukuoka Airport

By Expressway bus [Approx. 120 minutes / 3,190yen]
Fukuoka Airport → (Expressway bus : about 120 minutes / 3,190yen) → Beppu city (Beppu Kitahama)
From Central Fukuoka

By Expressway bus [Approx. 150 minutes / 3,190yen]
Nishitetsu Tenjin Expressway Bus Terminal → (Expressway bus : about 150 minutes / 3,190yen) → Beppu city (Beppu Kitahama)
Tours (By JAPANICAN)
[Transport Tour Bus from Fukuoka to Beppu/Fukuoka - Enjoy Japan's largest pedestrian suspension bridge and famous Beppu]
8:30am Depart from Hotel Okura Fukuoka ⇒ Kokonoe "Yume" Grand Suspension Bridge ⇒ Beppu Bay Service Area ⇒ Lunch ⇒ Jigoku Mushi (hell-steaming) Kitchen Experience at Kannawa ⇒ 3:00pm Beppu Station, 5:15pm Tenjin Station, 5:35pm Hakata Station


More detail and booking by JAPANICAN
[Transport Tour Bus from Beppu to Kumamoto/Fukuoka - Enjoy Aso's vast natural scenery]
9:00am Depart from Beppu Station East Exit Bus Area ⇒ Daikanbo ⇒ Milk Road ⇒ Lunch ⇒ Kusasenrigahama (Kusasenri Plain) ⇒ Aso Shrine and Mizuki Stroll ⇒ 5:00pm Kumamoto Bus Terminal, 6:45pm Tenjin Station


More detail and booking by JAPANICAN