Kagoshima Airport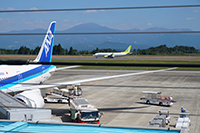 Kagoshima airport has many flights, especially to isolated islands and the 2nd biggest airport after Fukuoka airport.
It's located in the suburb of Kagoshima city, however, the access is really convenient to go not only to the central Kagoshima city but also south of Kumamoto prefecture or south-west of Miyazaki prefecture via Kyushu-highway. The airport is close to Mizobekagoshima IC. Shuttle buses are available every 10 minutes between the airport and central Kagoshima city. (Around 38 minutes)
There are also international flights to Taipei, shanghai, Seoul and Hong Kong.
You can closely see airplanes from the observation platform, which is really dynamic view.

[Website] http://koj-ab.co.jp/en/

"Tenmonkan" bus stop (Kagoshima city) (approx. 55 minutes) / "Kagoshima-Chuo Station" bus stop (approx. 40 minutes) → [Airport limousine / 1,250yen] → Kagoshima Airport
[Bus time table]
From Kagoshima Airport to Kagoshima city
8:30, 8:40, 9:10, 9;20, 9;30, 10:00, 10:10, 10:20, 10:50, 11:00, 11:10, 11:20, 11:50, 12:00, 12:10, 12:20, 12:30, 13:00, 13:10, 13:20, 13:30, 14:00, 14:10, 14:20, 14:50, 15:00, 15:10, 15:30, 15:40, 16:00, 16:10, 16:20, 16:50, 17:00, 17:10, 17:20, 17:50, 18:00, 18:10, 18:20, 18:50, 19:00, 19:10, 19:50, 20:05, 20:50
From Kagoshima-Chuo Station to Kagoshima Airport
6:10, 6:15, 6:20, 6:25, 6:40, 6:50, 7:00, 7:10, 7:20, 7:30, 7:45, 8:00, 8:15, 8:30, 8:45, 9:00, 9:15, 9:30, 9:45, 10:00, 10:15, 10:30, 10:40, 10:50, 11:00, 11:10, 11:20, 11:30, 11:45, 12:00, 12:15, 12:30, 12:45, 13:00, 13:10, 13:20, 13:30, 13:45, 14:00, 14:15, 14:30, 14:45, 15:00, 15:15, 15:30, 15:45, 16:00, 16:10, 16:20, 16:30, 16:45, 17:00, 17:15, 17:30, 17:45, 18:00, 18:10, 18:20, 18:30, 18:40, 18:50, 19:00
From "Tenmonkan" bus stop (Kagoshima city) to Kagoshima Airport
6:10, 6:25, 6:35, 6:45, 7:05, 7:30, 8:00, 8:15, 8:30, 8:45, 9:00, 9:30, 9:45, 10:00, 10:15, 10;25, 10:45, 10:55, 11:05, 11:30, 11:45, 12:00, 12:15, 12:30, 12:55, 13:05, 13:15, 13:45, 14:00, 14:15, 14:30, 14:45, 15:00, 15:15, 15:30, 15:45, 16:05, 16:15, 16:30, 16:45, 17:00, 17:15, 17:30, 17:45, 17:55, 18:05, 18:15, 18:25, 18:35